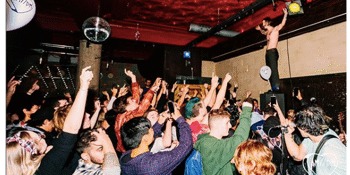 123 Agency presents
Between You and Me
Wrangler Studios (West Footscray, VIC)
Sunday, 23 September 2018 2:00 pm
For Jake Wilson, growing up in the outskirts of Melbourne, Australia, represented the sort of suburban cage that more often than not crushes ambition and creativity in favour of fitting in, getting along and getting ahead.
But when an inspirational high school music teacher discovered, and then nurtured, Wilson's natural gift for both singing and songwriting, it pointed to a crack in the window through which Jake might make his escape. It was punk rock though, which smashed that window clean open, and changed the young vocalist's life forever.
"I was obsessed with the genre from the moment I heard it," beams Jake. "I absorbed everything about it, from old records to new ones. It just got me so pumped and I knew it was what I wanted to do!"
But without a band, the effervescent pop-punk energy Jake wanted to channel would have to wait a while. Instead he set about uploading a series of acoustic songs and covers to YouTube, gaining a local following that only served to further whet his appetite for musical endeavour.
And then, his inbox lit up.
"It was this band of guys who were already putting cover songs online," explains Jake. "By the end of their first video I was like, 'These guys are pretty good' and after a few more I'd made the decision to go and audition for them."

After a successful try out, the nucleus of Between You & Me was formed and the band, now completed by guitarists Jai Gibson and Chris Bowerman, drummer (and brother of Chris) Jamey Bowerman and bassist James Karagiozis set about forging their own sound out of their wide-ranging collective influences.

"Everyone in this band likes different things," nods Jake. "From proper metal to really poppy stuff. That means that Chris ends up writing these technical guitar lines and Jamie is a shredder on the drums too. As for me, I've always been really interested in taking vocal parts that you might not expect in this genre and laying them over what we've built instrumentally. I spent about two years obsessed with harmonies. Every song on the radio I'd be working out where extra vocal lines could go in!"

That combination of dextrous musicianship and instinctive songwriting nous immediately drew the attention of the legendary Hopeless Records, and when the band released their first single with the label—"Overthinking" in the summer of 2017—the impact was immediate. The video has already clocked close to half a million views on YouTube alone.
But while the scale of the response was not lost on the band, it was only the first step of a much bigger journey.

"Of course getting signed to a label like Hopeless and having people go so wild for 'Overthinking' has been amazing," acknowledges Jake. "But this job isn't like a normal job. It's not like you do a course or achieve a thing and then you're fully qualified and have 'made it'. We want to do so much more, and I think our first album will show that."

That album, entitled Everything Is Temporary and slated for a worldwide July 13 release, is most certainly not the sound of a young band resting on their laurels. Recorded at Sydney's Electric Sun studios (Tonight Alive, With Confidence), it is a debut LP bristling with a confidence, wisdom and musicality that belies the band's years.

"The whole record is summed up by the line 'Everything Is Temporary'," offers Jake. "In fact, it's the last line of the entire album. It's a philosophy about accepting the good and the bad and rolling with the punches. About making sure you take all the good stuff and run with it, because it won't last forever—and neither will the bad."
And if you're searching for a pure distillation of that juxtaposition, look no further than first single "Dakota," a track which melds neck-snapping turns of pace to expansive hooks in a manner that nods to pop-punk's sun-drenched best all whilst shedding more than a little emotional blood.
"I actually play basketball in the same league as the person that song is about," laughs Jake, "so I might have to give up basketball after everyone's heard it!"
One thing that Jake and his band won't be giving up any time soon though is their ambition, not just to extend their impact on the burgeoning Australian scene, but to make their mark worldwide. Previously supporting Tonight Alive, The Maine and Neck Deep throughout Australia, Jake & co. have still higher aspirations.
"The ambition now is to get over the U.S and the U.K. at the earliest opportunity," finishes Jake. "Coming from where I'm from, you never think you'll be able to get out and see the world because of your music. You hope, but you never really believe it.
But now, it's a lot more than just a possibility."